Great Okanagan Beer Festival
Beer at the Lake
Thank you for all your patience over the past year and a half. Due to the unforeseen nature of the style and scope of events that will be permitted this Fall we have decided to postpone the 6th annual Great Okanagan Beer Festival, presented by The Train Station Pub until May 2022.
This was a hard decision by our team to make as we have been feverishly waiting to join all our sponsors, our beloved breweries, and you – our friends for quite some time. For those of you who have stuck with us and held onto your tickets, we do hope you continue to do so and we promise that the event in May 2022 will be bigger and better than ever!
Thank you again for your patience and understanding. If you have any questions please do not hesitate to reach out to us at cheers@gobf.ca.
Until we can cheers safely together – we raise our pints with you from a distance in a toast
#fortheloveofbeer
.
Check out our recap video of 2019's killer sold out event!
Waterfront Park
Main Event Location
This picturesque park is situated right on the water's edge in the heart of beautiful Kelowna and boasts unbeatable views of Okanagan Lake. Trust us, it's the ideal setting to kick back and enjoy some live music while you take in some views and brews.
2020 Third Place
Best Beer/Wine and/or Food Festival
Thank you for everyone that voted for us as the best beer festival!
2018 Third Place
Best Beer Festival/Event
Thank you for everyone that voted for us as best beer festival/event!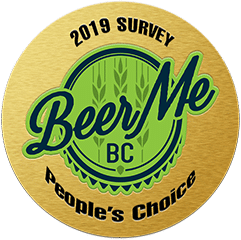 2019 People's Choice
Best BC Craft Beer Event
Thank you to everyone who voted for us as Best BC Craft Beer Event!