Whistler, or Vegas of the North, as some have nicknamed it, is the ultimate destination for your pre-wedding celebrations. Regardless of if you call it a buck party, doe party, hen-do, stag, stagette, bachelor or bachelorette party, we will guarantee that the bride or groom-to-be will have an unreal time!
Here is your guide to building the ultimate itinerary.
Step 1: Choose your season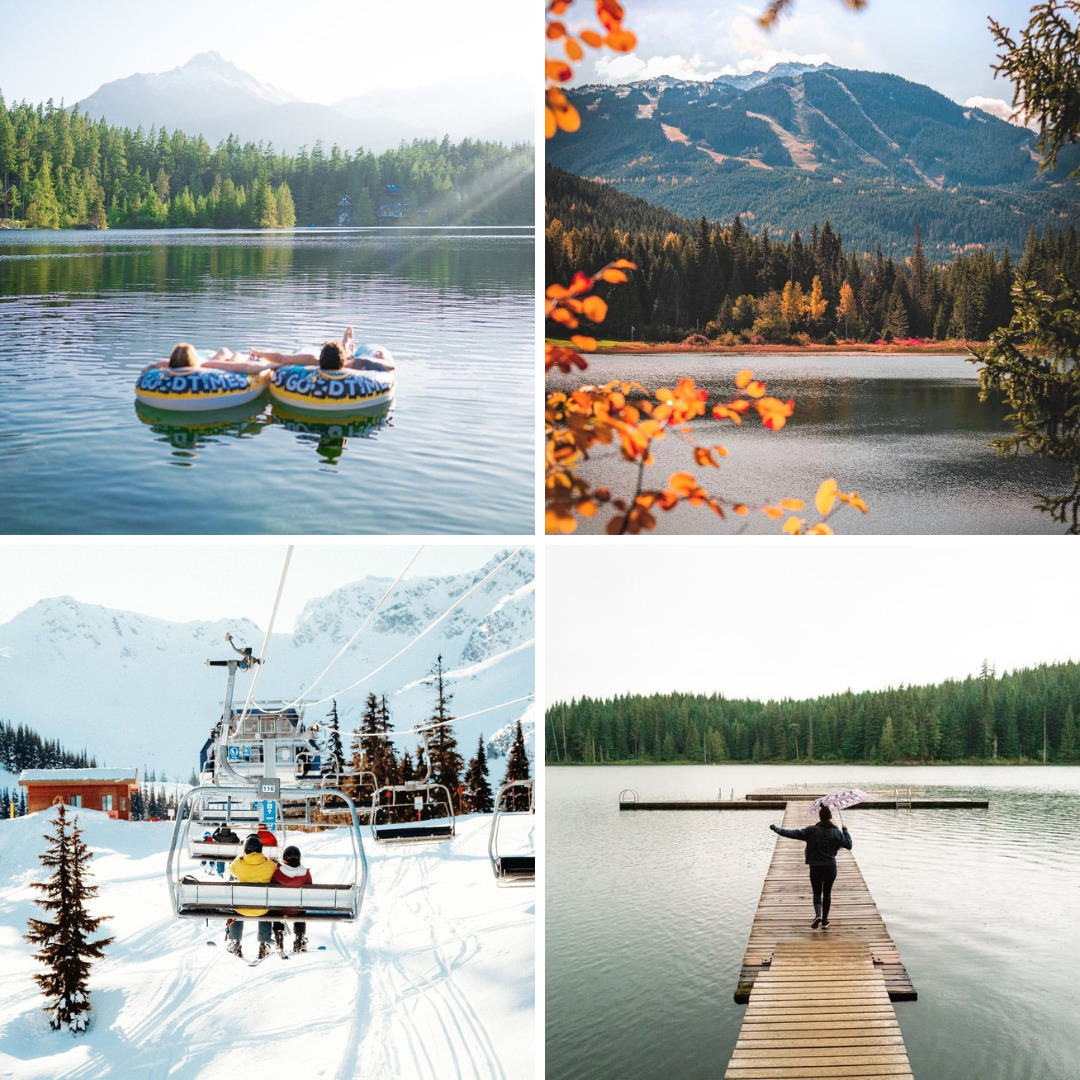 Does the bride-to-be or groom-to-be prefer Winter or Summer, or perhaps they are lovers of Fall or Spring? Each season has something unique and signature events that may be of interest to the wedding party.
If you are into eating and drinking Fall is the best time to come.
September: Whistler Village Beer Festival is a craft-beverage lovers' dream come true and it takes place in the heart of the Village during September
November: Cornucopia – Whistler's Celebration of Food + Drink, is a month-long festival where you can let your taste buds run wild.
If you are into skiing or snowboarding and epic après sessions, a weekend in Winter is the ideal time.
December: If attendees are film lovers (AKA cinephiles), then check out Whistler Film Festival, occurring the first weekend of December.
January: January is host to one of the largest LGBTQ2+ ski weeks in the world – Whistler Pride and Ski Festival.
April: World Ski & Snowboard Festival is the final Après of the Winter season and combines art, music, culture, and snowsports.
If you are into biking or sunbathing July to August are the perfect time to join us. With lakes to float, trails to hike, single-tracks to ride, and patios to frequent Summer in Whistler is just as popular as the Winter's.
July: Crankworx Whistler is the ultimate celebration of all things mountain biking. Not a biker? Not a problem! There is fun for everyone.
July & August: The Whistler Summer Concert Series takes place every weekend in July & August and showcases a wide variety of music acts. If you are joining us over a weekend make sure to check out who is playing.
Step 2: Book your accommodation
Want to all stay together in a prime location? Check out The Mountain View Penthouse Suite, offered by Gibbons Life Accommodation. Located in the Carleton Lodge, this property is at the heart of the village and features two living spaces, four bedrooms, and three bathrooms – perfect for getting ready for a night out on the town.
Are you traveling with bridesmaids or groomsmen that prefer to have private rooms? The Adara Hotel is a modern boutique hotel that has a rooftop pool, and an on-site dance bar.
Both of these properties provide a complimentary trial Aprés Pass for the duration of your stay – so you also get to reap rewards such as 20% OFF at The Longhorn Saloon, Black's Pub, FireRock Lounge, Tapley's Pub, Stonesedge Kitchen and more!
TIP: If you are wanting wine or champagne in your room upon arrival, Whistler Wine Guy can help.
Step 3: Book your daytime activities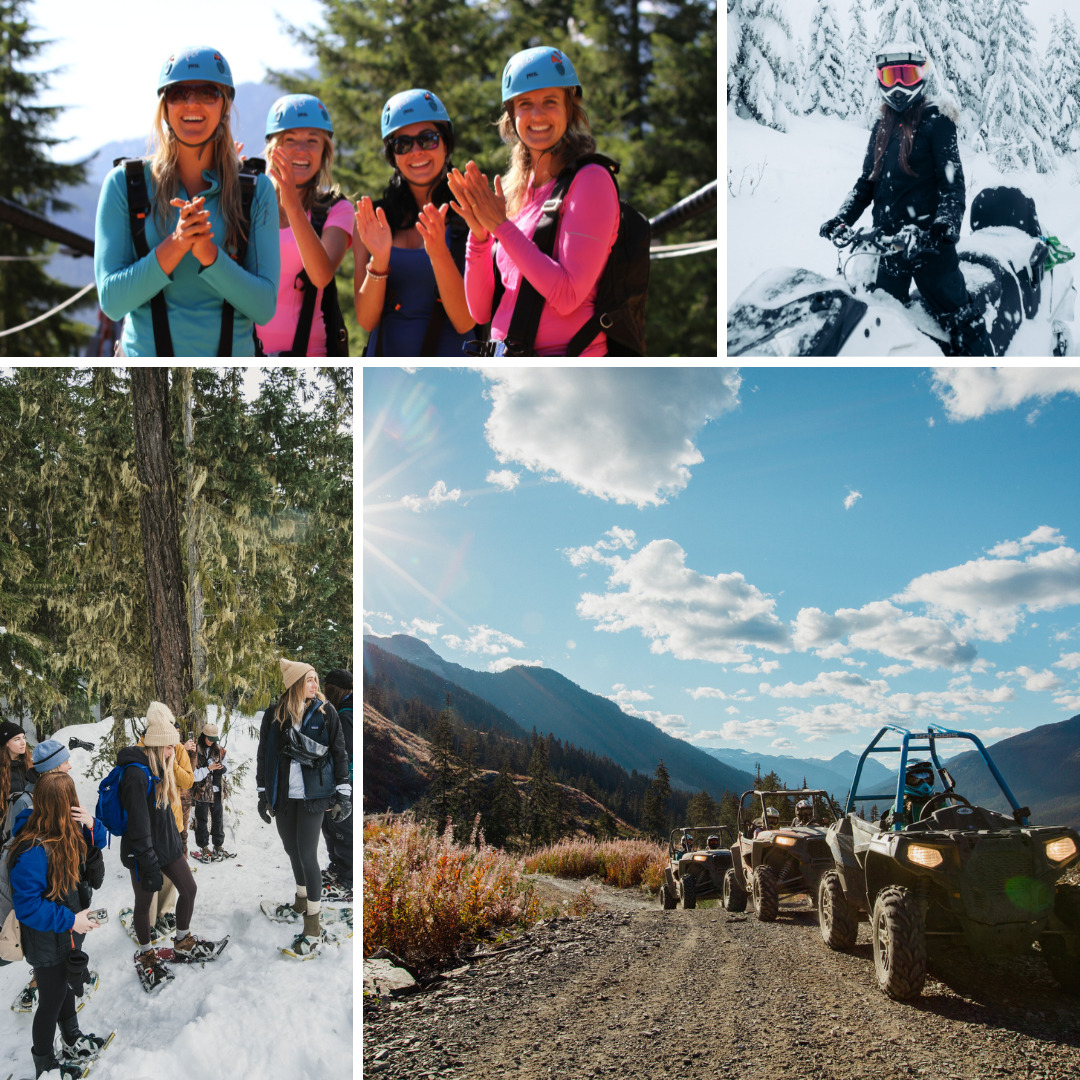 One of the best things about Whistler is the outdoors! So get outside with The Adventure Group – your one-stop shop for everything adventure.
In the Winter hop on a snowmobile and rip through the powder to breathtaking vistas. If it's peace and tranquility you are seeking a snowshoe tour through the Ancient Cedars will quiet your mind and rejuvenate your soul.
Have you ever dreamed of being able to fly? Soar through the air on a Superfly Zipline tour, the only side-by-side ziplining experience that runs year-round in Whistler.
In the summer months get wet and wild on a rafting tour with Wedge Rafting or play in the puddles and get dirty on a RZR tour.
Looking for a challenge? The Aerial Obstacle Course features 70 different obstacles from rope swings to balance beams that reach heights of up to 60 feet above the forest floor.
Step 4: Book your Après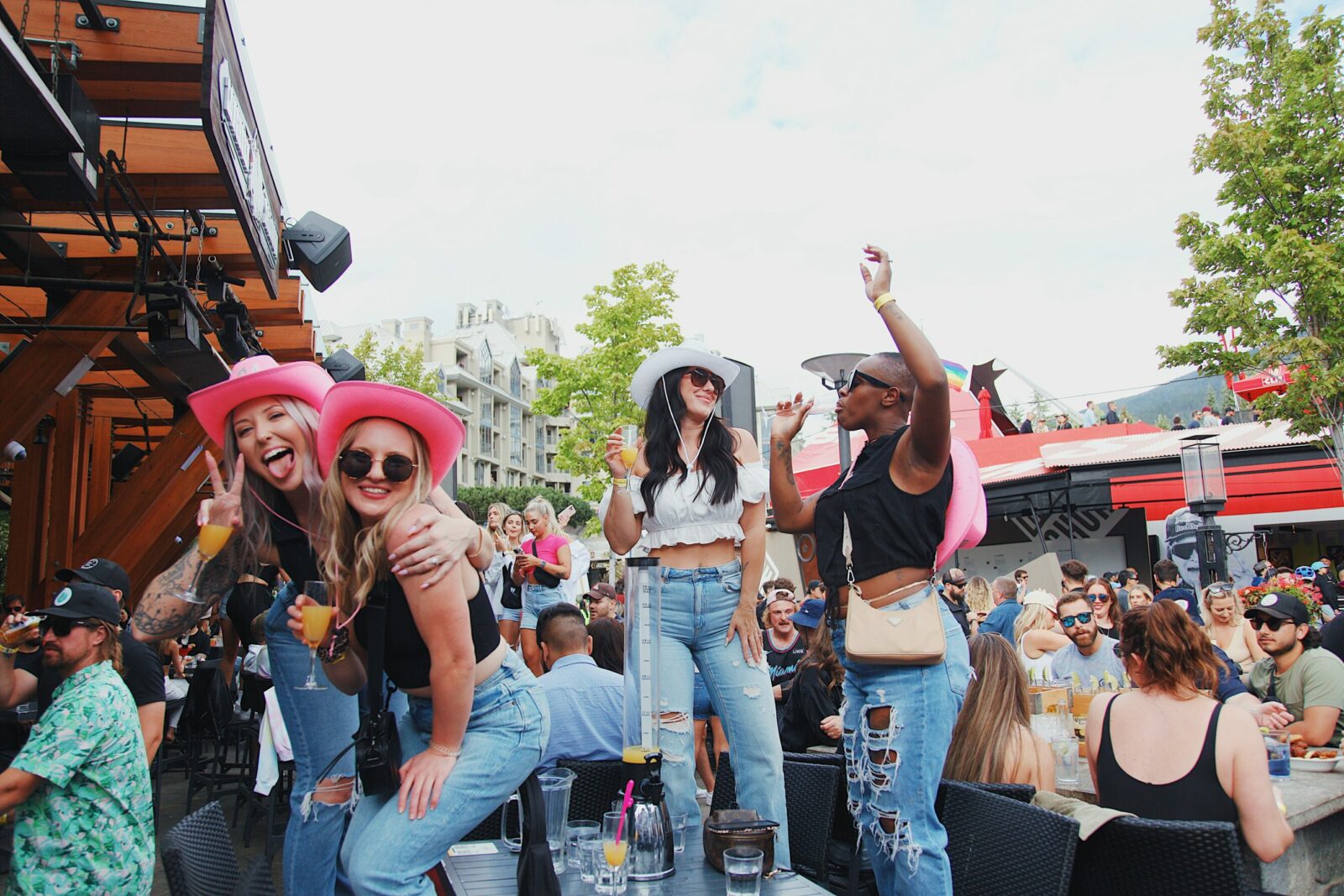 After a full day of activities you will be looking for a spot to celebrate, and no one does Après better than The Longhorn Saloon. Regardless of when you visit Whistler, The Longhorn Saloon is thee place to après. Drinks are always flowing and the music is always bumpin'.
For those of you looking for a true local's experience head to Tapley's Neighbourhood Pub, the local's living room. Tapley's is made for beer drinking, catching a game and making yourself at home.
Step 5: Make a Dinner Reservation
Whistler is home to some phenomenal award-winning restaurants. Here are some of our favorites:
Located in Whistler Creekside, Rimrock Cafè is a local gem that has consistently been rated one of Whistler's top restaurants since its creation in 1987.
Wild Blue Restaurant & Bar is the latest addition to Whistler's restaurant scene and has been noted as"The most important Whistler Restaurant Opening in a Decade" by Vancouver Magazine.
If you are looking for something polished without being fussy, then Stonesedge Kitchen is a great choice. Combining old-school vibes with new-school drinks and modern Canadian cuisine, this restaurant is a great choice for brunch, après, dinner or late night.
Step 6: Book your Nighttime Activities
Want to dance until the wee hours of the morning? Take your pick between Moe Joe's, Garfinkel's, Buffalo Bill's, or Après Après. Get on the guest list or contact our reservations team to help us customize your experience.
Into more of a pub crawl and boppin' around from venue to venue? #Hoponit with Bar Hop Whistler. This guided tour takes you to four epic Whistler venues and offers express entry, drink tickets, food, games, and good times!
Looking for something a bit different? Check out Vallea Lumina – a multimedia night walk through an enchanted forest in pursuit of hidden wonders.
Step 7: Rehydrate
Feeling a little hungover and like you need a pick-me-up? Book in for a Hangover / Hydration IV therapy session at the spa at Whistler, located on the 2nd floor of The Westin Resort & Spa. After this 20-minute session, you will be feeling ready to party like it's 1999!
Step 8: Repeat Steps 3-6.